Reserve Capacity Mechanism
The Reserve Capacity Mechanism (RCM) ensures that there is sufficient generation capacity in the South West interconnected system (SWIS) by:
Setting a Reserve Capacity Requirement two years ahead, published in the Wholesale Electricity Market (WEM) Electricity Statement of Opportunities.
Allocating Certified Reserve Capacity and Capacity Credits based on a Facility's technical capability.
Supplementary reserve capacity will be procured by AEMO if, at any time after the day that is six months before the start of a capacity year, it determines that insufficient capacity is available to satisfy demand.
Testing Facilities to ensure they are meeting their Reserve Capacity Obligations.
Assigning an Individual Reserve Capacity Requirement to each Market Customer, based on contributions to the system peak, to allocate the cost of Capacity Credits fairly among Market Customers.
A Capacity Year in the SWIS is between 1 October and 1 October of the following calendar year, to ensure capacity is available during the peak demand period running from October to March.
The RCM processes are separate from the energy market. The steps are shown in the flow chart below.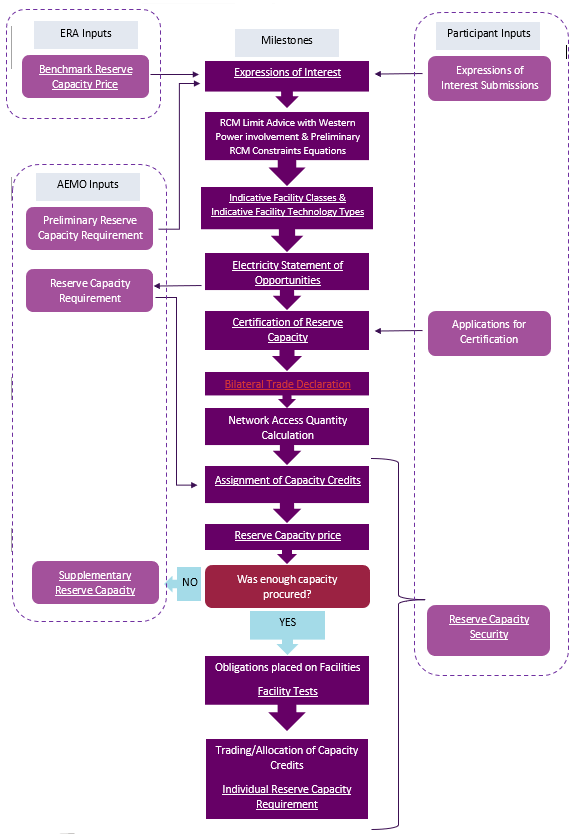 Market training
AEMO runs training courses on the RCM. Click here to find out more.
Stay informed
Click here to subscribe to our mailing list and stay up to date with the latest RCM related publications.
If you are already a subscriber, but no longer wish to be, click here to unsubscribe.
Contact us
Questions relating to the RCM should be directed to:
Manager, Reserve Capacity
AEMO (WA)
PO Box 7096
Cloisters Square, Perth, WA 6850

Phone: (08) 9469 9936
Fax: (03) 9609 8080
Email: wa.capacity@aemo.com.au