VNI West (Victoria to New South Wales Interconnector West)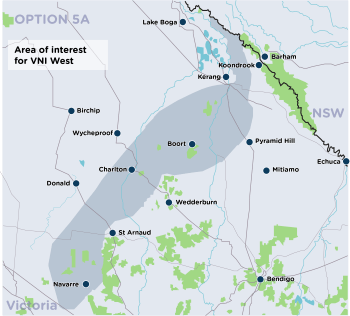 VNI West is a proposed new high capacity 500 kV double-circuit overhead transmission line, which will deliver vital new transmission infrastructure to:
carry clean, low-cost renewable power from renewable energy zones (REZs) in New South Wales and Victoria, in particular the wind and solar-rich regions of the Murray River REZ and the Western Victorian REZ
harness upwards of 3.4 GW of new renewable generation in the Murray River and the Western Victorian REZs
add 1.93 GW of electricity export capacity from Victoria to New South Wales, and 1.67 GW of electricity import capacity from New South Wales to Victoria
improve security and reliability in the electricity network as coal-fired power stations retire.
AEMO Victoria Planning (AVP) and Transgrid have recently released the Project Assessment Conclusions Report (PACR) which identifies the preferred network option for VNI West.
The PACR is the final report in the Regulated Investment Test for Transmission (RIT-T). The PACR identifies the preferred option for VNI West, charting a broad corridor that connects it to Western Renewables Link (WRL) at a new terminal station at Bulgana and crossing the Murray River north of Kerang. This continues on to EnergyConnect in New South Wales at the new Dinawan substation. It is known as Option 5A.
A new AEMO company, Transmission Company Victoria (TCV) has been established to undertake early works in Victoria, including community, landholder and Traditional Owner consultations and ongoing investigations into the corridor and ultimate route.
Please visit the TCV website to learn more: www.transmissionvictoria.com.au