Five Minute Settlement and Global Settlement
The Australian Energy Market Operator (AEMO) is working with industry to implement changes arising from an Australian Energy Market Commission (AEMC) Final Determination to implement Five-Minute Settlement (5MS) in the National Electricity Market (NEM). On 6 December 2018 the AEMC made a final rule that requires a move to a Five-Minute Settlement (5MS) and a Global Settlement (GS) framework for the demand side of the wholesale electricity market.
The full commencement of 5MS, and the soft start of GS, will begin on 1 October 2021. This aligns the development of systems and procedures for both changes, reducing implementation costs. GS will fully commence on 1 May 2022.
5MS workstreams
To implement the 5MS and the GS rule changes AEMO has established the 5MS Program, comprising the following workstreams:
Procedures – to define the required changes to market procedures.
Systems – to design, develop, test, and implement changes to AEMO's market systems.
Readiness – to coordinate, assist and prepare AEMO and the industry for the transition.
For further information about the program please visit the Program Information and Fact Sheets page.
Industry engagement
Engagement between AEMO and industry is crucial to the 5MS Program's success, which is why each 5MS workstream is aligned to an industry working group. To support this activity, AEMO holds monthly question and answer (Q&A) sessions and focus groups to provide its members with an opportunity to further discuss and explore key topics. To learn more about the 5MS Program's working groups, refer to the links in the diagram below.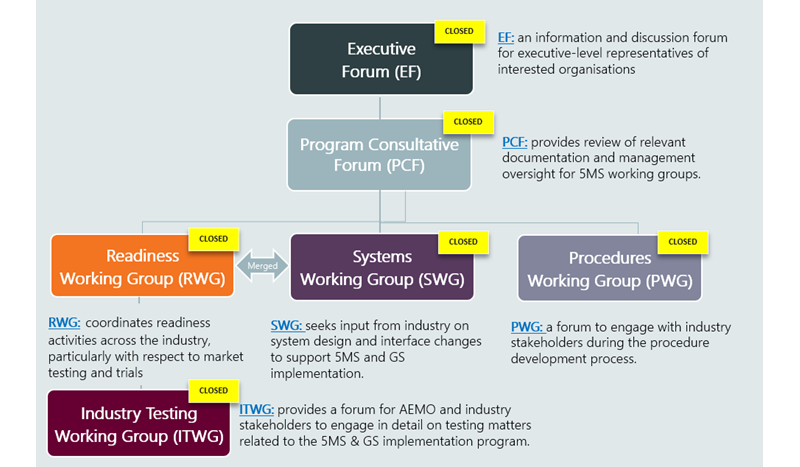 There are also a range of activities to keep all stakeholders involved in and informed about the program. These activities include:
Information sessions: aimed at providing user friendly updates on the 5MS Program progress.
Newsletters: designed to keep all stakeholders up to date with the latest 5MS Program news.
Want to know more?
Join our mailing list to receive frequent updates and invitations to our information sessions by emailing us.
Program timeline
For detailed information on the latest 5MS and GS timelines and Level 1 and Level 2 milestones, their descriptions, and key dates for Procedures, Systems and Readiness workstreams leading out until 2022, download the following document: